First impressions sell homes
Curb appeal is about making visitors want to see the inside your home based on the outside. It's like judging a book by its cover. The cover of the home should be cleaned and polished so buyers will be interested in taking a closer look. Your home should say "WOW" all the way to the curb.
This curb appeal checklist is a random collection of suggestions aimed at improving a property that is in good overall condition but needs a little tweaking here and there. It especially applies to a property  that has been "well lived in" or has "deferred maintenance" – both terms that Realtors use cautiously to describe handyman specials.
The suggestions are presented here in no particular order. Please let me know if they were helpful.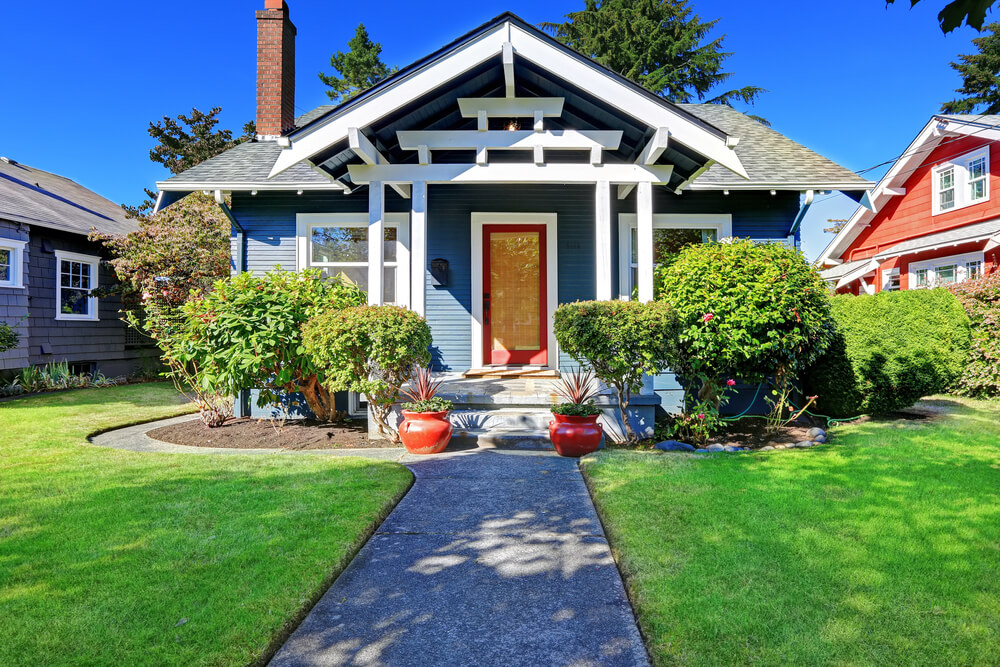 Paint wood trim with a high gloss paint that works with the main colour of the house. High gloss paint is considered a "clean" look and when fully cured gives the feeling of richness and permanence. Trim should always be coordinated with the door and siding colors. Consult a professional or use color-coordinated paint chips from a quality paint manufacturer. See behr.com for an excellent paint selection tool that you can play with online.
Add peat or sand top-dressing to the lawn with a spreader to level low spots and provide a good base for new grass. Top dressing your lawn encourages more robust growth resulting in a thicker, more hardy blades of grass. It also levels out low areas in a lawn.
Spread lawn seed in bare patches and areas of heavy traffic. Often kids or pets will take the same route through the yard leaving a traffic pattern in the grass. You can "overseed" areas with grass simply by sprinkling seed on top of the existing lawn. You can also plant new grass seed in bare areas and it will fill in within three weeks or so. Keep it watered all the time with a soaker hose on 'low'.
Remove kids' toys from the yard and store inside. You might have heard a Realtor say something like, "remove excess furniture and store it." The same rule applies to kids toys in the back yard. If necessary, build a temporary box where they can be stored out of sight.
Remove weeds from concrete pads and walkways. Nothing says neglect like a walkway with so many weeds sprouting up from the cracks that it needs to be mowed. Even worse is not mowing it and letting the weeds grow tall. Use a 20% bleach solution to kill weeds that grow up through the cracks. Bleach is made from salt and will decompose quickly so it is safe for the environment.
Remove weeds and debris from planted beds. Landscape beds should look like they were freshly turned over with rich dark mulch showing under the plants. Weeds distract the buyer from looking at the real value in your property. He or she can only see the negative aspects, in this case the weeds, and will ignore that best parts like that glorious dwarf maple that you grew from a seed.
Remove sticks, leaves, litter, bird droppings, and anything else that lands on your property. Clutter is distracting and will give the impression that the property needs attention when in fact it may be perfect.
Keep the grass mowed often at 2″ for a uniform look. If your summers are hot and the lawn tends to look brown then increase the height of your mower to 2.5″ or even 3″. This will help the roots grow deeper into the soil where there is more moisture.
Ensure lawn edges are trimmed evenly. Try to keep your weed-whacker at a constant height when cutting lawn edges. It is easy to cut grass too short along the edges resulting in dry or dead grass. Be careful to cut the edge in as straight a line as possible.
Use liquid fertilizer for quick lawn green-up. If the lawn is looking tired and wilted, try using a quality liquid fertilizer dispensed with a garden hose. You might need to buy a little liquid dispenser (about $5) but it is worth it. The liquid lawn fertilizer will give the lawn food for quick growth. A quality lawn is like a magnet for buyers so be sure the lawn is lush, brilliant green, well-watered, and properly mowed.
Mulch bare landscaping soil with bark nuggets or wood chips. Bare soil will dry out and blow around the yard creating an unsightly mess. Bare soil will also look 'dead' and unappealing. In some areas you can obtain free mulch from lumber sawmills. You might also make your own by using a chipper to dispose of your yard waste. Buying it at a nursery isn't cheap but they usually have the kind you like best, in stock and ready to go.
Prune neatly trees and shrubs. Removing overgrown trees and shrubs is critical to making a good first impression. If buyers cannot see the house or yard from their car, they may not be interested. Overhanging plants create a jungle effect that should be avoided. Tame your yard by pruning back any bush, plant, or tree that does not look manicured.
Remove overgrown or ailing trees and shrubs entirely and grass-over the remaining holes. Sometimes it is better to remove a tree, even an older one, if it is causing problems or has become out of proportion to the house and yard. Trees are very inexpensive at nurseries and even cheaper at tree farms. If you have to replace a very large tree but don't want a sapling, consider calling a mature tree transplant service. The tool they use is called a "tree spade" and it can move and transplant mature trees up to 20′ tall or so. This means you can have an 'established' tree instantly and that adds value to your property – sometimes thousands of dollars for one single tree.
Ensure the view of the house from the road is not blocked by trees and shrubs. Too-tall hedges, gangly trees, overgrown bushes all give a sense of poor maintenance. They also create a security problem because intruders can use them to hide in. If overgrown landscaping is blocking the view of the house, it is also protecting intruders while they try to break in. Tall hedges are sometimes desirable for sound reduction or privacy. In this case, keep them neatly trimmed with straight lines and plumb sides. Make sure they don't crowd the gate, if there is one. A 6′ hedge neatly trimmed is usually sufficient for privacy. Fertilize the hedge to give it a rich green color.
Add potted shrubs and vines to screen unattractive spots. If some areas have less appeal than others try using plants to hide them from view. A power transformer in your front yard can be screened with a low trellis painted taupe or green. Plant climbing vines at the base and train them to surround the transformer on three sides (still leaving access for workers). A utility pole in the back yard can be screened with a fast-growing perennial shrub or tree grouping.
Add containers of blooming annual flowers on doorstep, porch, and/or decks. Everyone loves fresh flowers, and they have a special appeal all their own. Invite people to slow or stop and smell the roses by having some everywhere. Miniature roses look adorable in a small urn. Age a terra cotta urn by spreading a dilute solution of yogurt on it. In no time it will sprout a wonderful mossy patina.
Get a new door or paint the existing door if it is relatively new. The door is the first thing people will get to see up close. Be sure it is well-painted with a coordinating color. If your door is more than ten years old consider a new door that is more up-to-date. A cut-glass window and dent-free steel panels will impress buyers.
Consider shutters to add interest and an opportunity for an accent colour. Shutters give you an opportunity to add an accent color to your exterior paint scheme. Most paint schemes rely on three or four colors. Shutters are one way that you can add another color to the pallette. Shutters also make windows seem wider and this can be complimentary to the design of the home if done right. Choose shutters that suit the style of your home and a width that are in proportion to the space around the windows.
Add accessories to the exterior of the home. Something as simple as a triangle from the flea market can add character when fastened to a front porch. This is a touch of whimsy that can liven up an otherwise plain area.
Add a new brass knocker to your front door. Any brass fixtures corroded or badly tarnished should be removed and replaced. If you don't have a knocker, this is a good time to add one. You might even inscribe a "welcome" in the space provided on the front. Be sure to choose a knocker with a security peep-hole if you don't have one already.
Add a new brass kick-plate to the bottom of the front door (after painting it of course). A kick-plate serves to protect the paint at the bottom of the door. As an accent piece, it can be polished to a bright shine and will look handsome against a freshly painted door. This feature is something that can be seen from the roadside and will attract buyers to take a closer look.
Add a new brass mail slot to your front door. Stock builders' mail slots are lightweight and uninteresting. Choose a heavier model that suits the style of your house and, if possible, matches your door hardware. A heavy mail slot in a tasteful design will add weight to your front door and create a feeling of richness and desirability.
Fix or discard broken exterior furniture. All exterior furniture should be either properly fixed or discarded. Furniture that can be fixed should be kept only if it can be reconditioned to look new. An Adirondack chair with peeling paint is a good example. Your exterior furniture should look welcoming even if you are taking it with you.
Paint the bar-b-que with a bright, fireproof paint (yellow, orange, red, etc.). The bar-b-que is often left outside without a cover. Consequently, the finish might not be entirely satisfactory. The best treatment for a well-used bar-b-que is a new finish. This is easy to do by first de-greasing it with a strong mixture of TSP and then rinsing with hot water. Repeat if necessary. The bar-b-que must be perfectly clean from top to bottom before you can paint it. Instead of black, be adventurous and try a bright summery color that nobody has seen before. Look for high-temperature paint in colors like glossy teal, aqua, pink, forest green – even taupe! The idea is to make your home blend in with the neighbourhood but stand out with small details like this. You may even get an offer that includes the bar-b-que.
Add new cushions to the patio set. The patio set is often used in the summer, and with the umbrella extended and the chairs arranged in a welcoming way, it can bring back wonderful memories. Remove the old seat covers if they are faded or worn. Replace them with new covers or, if you're handy with a sewing machine, recover the old ones to look new. You can also slipcover patio furniture with gay motifs in easy-to-care-for cotton blends. A seat, skirt, and back panel is all that's necessary. Tie them on with an apron string around the back and you'll have a stylish accessory for your patio.
Paint, repair, or replace siding if necessary. Siding can be either vinyl siding, which covers the whole house, or wood siding or partial wood siding with stucco. Wash the vinyl siding with soapy water and rinse thoroughly. Wood siding and stucco can be gently pressure washed and then painted.
Newly painted areas should be color coordinated with the existing paint on the house; use a professional guide from the paint store before choosing paint. Always coordinate new paint with your existing paint. Using coordinated colors also helps in the decision making process as there are usually less than ten colors that will work nicely with the colors you already have on your siding or trim or vice-versa. Don't guess at color matching.
Unclutter the surroundings by using garbage cans for storage. Unused garbage cans can be washed and painted a happy color to work as an outdoor toybox or to hold garden implements like hoses and sprinklers. Turn trash into cash by letting buyers know that this funky accessory is part of the sale.
Add a garden hose holder and coil the hose neatly. The garden hose should be stored on a garden hose cart or a proper holder on the side of the house or garage. Imagine a ship with the shorelines coiled perfectly and ready to go. Details, like an expertly stored hose, will make an impression.
Pressure wash siding (except vinyl, which needs to be washed with a brush). If the siding is in good condition and the paint is also in good condition then just pressure wash it with a rented unit. Use a low pressure nozzle and be very careful when spraying siding. It is possible to wash paint off the wood creating unnecessary repair work.
Sweep the roof of any debris. The roof can accumulate leaves, sticks, and moss from the vegetation around the house. Do not pressure wash the roof because it can damage the asphalt shingles. You can pressure wash wood shakes, clay, slate, and concrete tiles with care. Use a stiff shop broom to sweep debris from the shingles. Work from the peak down to the eaves. Use a garden hose to spray-clean the eves when you are done.
Seal the asphalt driveway for a crisp black finish. A freshly sealed driveway looks like it is new. "New" is the goal for any curb appeal project. Use extreme care when spreading the asphalt sealer and stay within the boundary of the existing driveway. It is very difficult to clean up if spilled on concrete or other surfaces other than asphalt. Sloppy application will be a red flag for buyers and may look worse than not sealing it at all. Mask trim and siding then hand-brush around the edges for a professional look.
Let the sunshine in by pruning or removing bushes and trees near windows. Prune back trees or shrubs that block sunlight from entering the house through windows and doors. This will improve the appeal from the street and from the inside. All windows and doors should be fully visible from the curb.
Look at the big picture and try to improve all areas of the yard and house so one part doesn't have new expensive fixtures while the grass is brown. Set a budget and spread the investment around the property. Try hiring a student to help with the yard-work and do the detail-work yourself. Many high schools will encourage you to post a job listing on the bulletin board. Expect a good response if you pay 20% or more above minimum wage.
Fit into the community. Look at the neighbouring houses and copy the best features from the nicest looking ones. The neighbouring houses are the best reference you can have. The goal is to have the most outstanding house on the block without standing out. If the neighbour has a low evergreen hedge that you like then add one to your property. The "continuity" from one yard to the other defines a neighbourhood. Buyers like neighbourhoods that look consistent and well-cared for.
Add a bird feeder to the back yard. A bird feeder says that the home is a friendly, charitable place. Fill it with sunflower seeds and your yard will always have birdsongs. Bird watching and bird feeding has therapeutic benefits for everyone. Seniors, the disabled, children, and the infirm have been shown to benefit from watching wild birds gathering at a feeder.
Add a bird bath in the garden or landscaping feature. This accessory has a double purpose; to provide a place for birds to bathe and to act as a water feature in your yard.
Add a fountain in the front yard. Moving water is a relaxing sound and a fountain is a perfect way to add this element to your property. In some cultures, water falling or moving water is a symbol of success and prosperity. Everyone is drawn to the sound of falling water.
Security and exterior lighting will enhance the appeal of your property because it will seem safer and more friendly. Security lighting can take the form of motion-sensitive lights. Some decorative sconce lights now have motion detectors built into them. These are especially nice to have. Exterior lighting has two roles; pathway lighting makes it safer to walk around at night and architectural lighting adds interest to your landscaping and building structures. Experiment with both types. Solar path lighting is easy to install and they are completely maintenance free. Up-lighting gives a greater focus and effectively defines a certain area of your home and landscape. Try putting an up-light under that old oak in the front yard and see how different the yard appears.
Add a sprinkler system. Installing an automatic sprinkler system will make your lawn the envy of the neighborhood. Dense, green grass is the result. A sprinkler system is a beautiful way to increase the value of your home, save water and enjoy more free time. A sprinkler system doesn't have to be automatic. Manual on/off systems are little more than a buried hose and a spray head. With some hand tools and some lengths of PVC pipe you can make your own "manual-on" system. Bury the pipe, add proper nozzles for even coverage and turn the tap on manually twice a week for the same effect.
Keep the lawn green and healthy looking. A healthy lawn is one that has been de-thatched, top-dressed with sand or peat, and top-seeded. It also needs to be fertilized twice a year with a good "weed-and-feed" type lawn food. The "weed" part of the mix helps keep bloodleaf weeds under control. The fertilizer treatments will make your lawn a rich green color that is most desirable for buyers.
Spray for bloodleaf weeds or remove by hand. If your lawn is in bad shape to begin with you may need to spray herbicide on it. A lawn that is mostly weed is a good candidate for professional help although you can do it yourself, it will just take longer. The goal is to have a perfectly weed-free lawn that will make people stop and admire your green thumb.
Shape hedges so they are uniform and neat looking. Hedges can become more trouble than they are worth when selling a home. If the hedge is higher than six feet, or if it encroaches on the sidewalk or entry to the property then it should be radically pruned back. Aim for a hedge height of four to six feet with a fairly narrow profile so it doesn't take up too much room at the property line. The hedge should be trimmed so it has a slightly narrower crown than its base. Trim often to avoid thinning foliage at the base.
Add exterior lighting to highlight architectural features of the home at night and improve security. A deck is a prime candidate for extra lighting. With a set of deck lights homeowners can enjoy sitting out on the patio after dark and extend those long summer evenings. Exterior lighting is designed to illuminate specimen trees or plants in the garden or architectural details of a home or office such as the facade, columns, or large expanses of wall that lacks detail other than the beam of the light itself.
Clean the pool deck. The pool deck should be cleaned with a pressure washer to remove soil accumulation. After, a bleach solution can be applied to whiten the concrete or grout. Consider sealing the concrete or grout after to make future cleaning jobs easier.
Drain and clean the hot tub with a soft scrub brush and fiberglass tub cleanser. It is easy to dismiss the idea of cleaning the hot tub because it is always chlorinated. However, if you look closely, you may see a build-up of scum around the waterline. This comprises body oils, dead skin, and other bodily debris. The tub should be cleaned to a high polish inside and out, then filled with fresh water, and properly chlorinated. Be sure to repair or replace a torn hot tub cover.
Hire a landscape architect to create a landscaping plan for the house then do the work yourself. The architect will provide a site plan, a plant list, and diagrams showing what is to be planted where. The advantage to hiring a professional is that you are assured of a professional-looking outcome. This always means higher property values.
Clean the garage. Have a garage sale. Consider hanging big items such as bikes and lawn chairs on the wall. Vacuum out the cobwebs. Paint the walls and ceiling to match the interior of the house. Hang a curtain or blind on the window.
Paint the floor of the garage. A finished floor improves the garage's appearance and preserves the integrity of the concrete. And by making drips and spills easy to clean up, it also prevents a garage from looking like a Daytona 500 pit stop. In snowy areas, a floor finish prevents concrete deterioration from salt and other chemicals used to melt snow and ice. Paint it white and expect squeals of delight when you show it off.
Paint the garage as if it is another room in the house: coordinated paint on walls and trim that match the exterior of the home. If the house is predominately antique white with ultra white trim, then consider painting the garage the same color. If the house has a multicolor paint scheme, choose a suitable color for the garage. Imagine a bright white ceiling, off-white floor, and glorious hellebore green on the walls with ultra white gloss trim (assuming, of course, that it matches the home's decor). Mowing the lawn Saturday morning will never be the same again.
Remove greasy workbenches from the garage. An old workbench may appeal to some but if it smells and looks in rough shape then it's time for it to go. Petroleum and grease will make it useless for woodworking and the odor is offensive to many people. Give it to a neighbour or haul it to the dump.
Paint the garage door. Choose a coordinated color that matches the exterior of the house. If you're unsure, consult a certified design consultant. Often they can make recommendations based on a photo of the house and the bill is only for an hour of time. This is a deal when you consider how important color and color coordination are to the curb appeal of the house. Never guess at color integration.
Pressure wash exterior concrete. Remove moss, algae, and dirt from walkways and the driveway using a pressure washer. Do not pressure wash asphalt because it will ruin it. Pressure washing also removes gum off sidewalks, grease, grime, and other contaminants that will distract buyers from seeing the value of the property.
Add evergreens trees in pots to either side of garage door to create a sophisticated look. If you're handy with a clipper, buy a couple of emerald cedars, pot them in urns, and try to cut them into those fancy spiral shrubs found in front of finer mansions everywhere.
Plant flowers, evergreen shrubs, etc. in window boxes depending on the season. If it is winter consider planting some hardy evergreens in the window boxes. Dress them with lights around the holidays. Remove window boxes or plant something in them but do not leave them empty. Even holly boughs placed in window boxes are better than nothing.
Put a new coat of high-gloss paint on the porch floor. The front porch is the entry to the home and should be washed thoroughly and painted even if nothing else is going to be done. Choose a very high-gloss paint coordinated with the colors of your exterior paint. Use extreme care around the edges for a professional look. When painting stairs, add a traction material like sand or pumice to the paint for added safety.
Use dark mulch in landscape beds. High contrast is pleasing to the eye, especially green plants against a deep brown backdrop of wet mulch.
Paint concrete garden fixtures, such as benches, birdbaths, etc. Use a neutral color like taupe, clay, putty, or something that accents the house color.
Repair the sidewalk. Fill cracks with the proper repair compounds. Be prepared to paint the sidewalk after if the repairs are visible. Be sure to seal the concrete if it is not to be painted. This will keep moisture out and prevent further cracking from winter conditions.
Pick-up trash from the street in front of the house for 150′ in both directions; a neat neighbourhood reflects on the property value. Keep doing this while the house is for sale.
Remove dead and dying plants from garden beds, landscaping, and leftover pots from summer.
Offer the neighbours leftover mulch for their front yard landscaping. Their houses will reflect on the value of your house. If their yards look good you may realize a higher resale price.
Offering to 'help' the neighbour by hauling away her yard waste, etc. as part of the clean up. An old couch in their yard or a broken television in their carport will detract from the value of your home. Removing these items at your expense, while removing trash from your own garage, will create goodwill and mean more money in your pocket.
Buy a regulation putting cup and hole flag for an instant putting green in the back yard. Take some time to learn how to mow a "green" around the hole. Use care as you don't want to have a circle of short brown grass around your feature attraction.
Remove dead and dying flowers for the entire property. Compost, burn, or take them to the dump.
According to a national survey by Sears Weatherbeater Paints, more than 37 percent of all Americans (23 million households) would choose white as the primary color in painting the exterior of their houses, then in order of preference, gray, blue, tan and brown, cream, beige, green, yellow and, finally, red. By choosing one of these favorite colors, the house will be more "mainstream" and be more favorable to prospective buyers.
Bright white exterior trim always looks nice. Against a lighter color it seems fresh and summery. Against a darker color it provides sometimes-needed contrast.
Use a neutral trim colour if the house is white, such as off-white or clay. Dark trim on a house with white siding is nice but sometimes it offers too much contrast or attracts attention to moldings and trim that may not benefit from being showcased. A white house looks nice with pale trim colors, like putty, or clay. Other colors can be used, of course, but they should be pale and designed to be paired with white.
If a "cure" involves shrubbery or trees, it is helpful to note what you want the plant to do and then ask you local nurseries to recommend something. For example: "I want a tall, fast-growing shrub that will screen my second floor patio." The nursery might recommend bamboo.
It is very important to use a professional paint-chip set of coordinated colors when painting the home; it's very easy to make a mistake. Your "color eye" may like a particular shade of purple trim against butterscotch siding. But most people will want their biggest investment to be conservative and have universal appeal. It's easy to make a mistake when matching shades. Use a paint chip.
Avoid bold colors when painting because they can negatively affect the value of the house and other houses in the neighbourhood.
Repair or replace the screen door. The screen/storm door should compliment the style of the house. A country door with gingerbread scrolls would look great on a tidy 1920's home but would be out of place on a contemporary executive home. A broken or peeling screen door affects curb appeal even if it is mated with a new steel entrance door.
Paint the screen door a coordinating color compared with the house color. Choose the same color as your trim or your front door. Have a look in some new home magazines for ideas.
Lift the tree canopy by pruning off lower branches. Raise the overall feeling of your yard by raising the minimum elevation of the lowest branches on your trees. Be careful to avoid trimming branches that would show an undesirable characteristic, like your neighbour's RV or doghouse.
Trees should be pruned to allow easy mowing under them and to encourage the growth of grass. This is a common sense approach to yard maintenance. If the yard looks difficult to mow and keep neat it probably is. Simplify the chore by pruning trees so you can walk under them with a mower. Buyers will be visualizing themselves cutting the lawn – make it a nice mental picture for them.
If painting the exterior of the home, consult a professional to match colors with brick or other architectural features. Brick, concrete foundations, cobblestone walkways, colorful chimneys, and other architectural features are part of the overall effect. Choose exterior paint colors that work with the brickwork. Paint brick with patched grout.
Polish existing address numbers or add new ones. Rusty or corroded house numbers detract from the real value of the property. Polish or paint house numbers so they stand out. Consider replacing small house numbers with larger, more bold examples.
Move the address numbers to a more prominent location at the end of the driveway. Consider placing the house numbers on a fixture closer to the road, like a large flat rock, for a "friendly" welcome.
Repair and paint fencing. Sagging, peeling fencing with boards or whole sections missing are more suited for Halloween than a home viewing. If the fence cannot be repaired, it should be removed entirely from the property. A good, low-cost replacement is a new boxwood hedge that will grow into a lovely neighbourhood feature.
Apply sealer to the deck for a clean well-maintained look. Pressure wash the dirt and silt (from rain) from the deck and then apply a good quality sealer. It's not necessary to buy the best weather protector sealant as a basic quality one is satisfactory and will last for several years.
Paint sidewalks that have been repaired. A repaired sidewalk with a fresh coat of slip-resistant concrete paint will add value to the home. Consider painting a detail with a subtle garden-theme stencil along the border. Use personal restraint when choosing a design and an accent color. A good theme for a sidewalk painted a mortar brown taupe might be an ivy vine here and there along the walk painted a few shades lighter than the sidewalk itself.
Wash the gutters inside and outside. Leaves and debris can accumulate in gutters causing extra weight from rainwater to loosen the hanging brackets.
Paint the gutters a coordinated color. If you choose to paint the gutters, choose a color that matches your overall four-color scheme. Consult a professional landscape architect if in doubt. The modest cost for a professional color scheme consultation is well worth it.
Store bicycles out of sight. Use bicycle hooks in the garage to store bicycles, if possible. For smaller bikes, consider an inexpensive concrete bike rack from the local building supply. These racks keep bicycles in a neat row and give added security with a steel ring for bike locks.
Keep the front entry swept and clean. The front entryway should be "red carpet" ready always. Remove leaves, debris, and litter immediately.
At dusk, always put on all the exterior lights. This is courteous gesture for people driving by to have a look on the way home from work. It also highlights the house as a stand out from the others on the block.
Remove household trash from property regularly to prevent odors. Trash bins, composters, etc. should be emptied regularly to keep these areas smelling fresh. Consider using an air freshener in the area where trash bins are located.
Replace burned out exterior light bulbs immediately. Outside lighting should be fully functional. This includes lights for the entry, back porch, pond lights, walkway lights, landscape lights, etc. If the season is December holidays, be sure holiday lights are replaced also. Use long-life bulbs in hard to reach areas, and a "rough-service" bulb in the garage door opener to extend bulb lifespan in this vibrating fixture.
Move landscaping to the perimeter of the property to create a spacious feeling. Many people enjoy the feeling of standing in the middle of a large lawn. It's a good place to play badminton or croquet in the summer. Expand the value of the house by expanding the usable play area of the lawn.
Sprinkle a combination of grass seed and fine mulch on any area where the grass has turned to mud. A muddy yard is a red flag for families with children. If the problem has been persistent, consider asking a landscaper for a consultation on improving drainage. Otherwise, sow grass seed designed for high-traffic areas.
Remove rabbit hutches or any other attempt at animal husbandry; the breeding and slaughter of animals on the property are a turn-off for buyers.
Add a potting table in the backyard; connect the hose to a discarded sink for running water. A few 2×4 boards and an old kitchen sink from the junk shop can become a handy potting table. Paint it with a color that compliments your house.
Move "restoration" cars to another location while selling the home. If this is not possible, put a temporary hold on continuing the restoration while the home is on the market. Box spare parts and cover the car with a tarp to reduce the perception of clutter.
Remove junked cars from the front and back yards. Many teenagers have saved the old family car from the scrap yard and now "store" it in the back (or, even more dreadful) the front yard. Call a recycle-er to remove the car free.
Offer to remove junked cars from the neighbours' yards. While the recycle-er is visiting your property, ask the neighbours if they would also like relics removed from their yards, too. A significant part of curb appeal is the condition of the neighbour's house.
Repair gutters and down-spouts. Missing down spouts should be replaced. Also, consider replacing sections of gutters that are sagging or bent.
Repair loose bricks by chipping out the old, crumbling mortar and replacing it with new mortar. Take care to "point" the mortar so it matches the style of the existing brickwork. Hire a professional if you are in doubt about doing a perfect job as a sloppy patch will draw more attention than a professional repair.
Apply a coat of cement to the exterior of the foundation if it has cosmetic problems. Cracks in the foundation are a normal feature in many homes. Large cracks can be a sign of uneven settling or weak cement but hairline cracks are okay. However, even hairline cracks can make a first-time buyer nervous so consider applying a skim coat of cement to the exterior of the foundation. The inside the foundation will still be visible for a professional home inspection so don't worry about masking a potential problem.
Put an accent light on the "For Sale" sign so it's visible at night, especially during winter months. A small accent light on the sale sign looks very professional and appealing. Use a solar light, or create a slit in the soil with an edger or shovel and bury the extension cord neatly in the grass.
If you know by autumn that you're selling in the spring, plant daffodil and tulip bulbs in the lawn. This is a happy surprise when March or April (or May) comes around. They will sprout and flower for several weeks before the lawn needs to be mowed for the first time. Cut some and place a few, or a bunch, in all the rooms of the house.
Wash exterior windows even if they don't seem to be dirty. Rain carries with it a certain amount of silt that can make windows seem dull. Windex brand window cleaner makes a concentrate that allows you to clean second story windows with a garden hose.
Re-caulk exterior caulking for a crisp clean finish. Even if the caulk is fairly new consider new caulk for a polished look.
Replace aging canvas awnings with new coordinated fabric. Fabric awnings can fade over time in the sunlight. Consider replacing worn or faded awnings with newer material. There are a variety of styles and designs that match your new paint scheme.
Edge the lawn. Create a 1″ border around hard edges like driveways, walkways, and other features for a crisp, fresh appearance. A properly edged lawn can also contribute to better drainage and eliminate watering overflow problems that may cause dirt to migrate from the lawn to the driveway.
Create a one-foot perimeter of white quartz landscaping rock around the home; install weed-proof fabric under it. This feature highlights the perimeter of the home while giving it a very inexpensive but luxurious looking treatment.
Remove empty flower pots or plant flowers in them; in milder winter climates, plant evergreen shrubs in them. Consider planting plastic evergreens from the thrift store if the weather is too cold for new plants.
Remove chalk drawings from the sidewalks and driveway with a hose. These wonderful decorations are something that might distract a buyer from seeing other parts of the house. Hose off chalk art before the buyer visits.
Replace missing or broken shingles. Missing or broken shingles can be a normal part of an aging roof. They may have been lost during a recent storm or simple come loose. Even if the roof is not compromised, this is something that will attract negative attention and remarks.
Scrub white poly patio furniture for a crisp bright finish. Bleach or Oxyclean, an oxygen-based cleaner, will restore dirty patio furniture to its former glory. Store chairs out of the rain to keep them clean.
If you have a separate garage, paint the siding and trim the same colors as the house. For maximum curb appeal, try to make the garage design mimic the house by also painting the entry door and changing the light fixture to match the front porch.
Add curtains or other window coverings to the windows in the garage. Curtains, bamboo, or inexpensive vinyl blinds from the local home improvement store will make the garage seem more friendly and less utilitarian.
Remove pet feces from the yard. If you have a dog (or horse, etc.) be sure to remove feces from the lawn on a daily basis. Not only does it smell and create a sanitary hazard, it may also be tracked inside by unaware visitors looking at the house.
Restock the woodpile so it is full whatever the time of year. Look in the newspaper for cheap cordwood. Even a load of softwood is better than an empty wood pile. The buyer wants to visualize living in the house and sensory stimulation like a full wood pile always adds curb appeal. An empty woodshed is another perceived cost for the buyer; a full woodshed adds to the value to the property.
Repair screens with a simple kit from the local home renovation center. It is possible to buy inexpensive screen kits that come with all the parts you need to do it yourself. The task is very simple and full instructions are provided. You can even buy the metal parts, joiners, and the screen kit to make one from scratch if one is missing.
Ensure all windows have screens including patio doors. Patio doors should have screen doors no matter what. This door is most often open during the summer and a screen door here is very appealing.
Paint the picnic table. Choose a color that matches, or coordinates with, the paint scheme of the house. It's not necessary to always use the trim color on outside additions. For example, a white house with green trim and a silver door can have a picnic table that is white, beige, or redwood, etc. But the same house with a picnic table painted with a shade (add black) or a tint (add white) of the primary scheme colors will have that much more appeal.
Paint the tree-house or play house to match the main house and garage. Use the same paint colors for siding, trim, doors, etc. Alternately, choose a complimentary color scheme just for the tree or play house. For example, a tree-house painted two shades of beige, with bright white trim, would compliment almost any house color scheme. Add a flower pot by the front door.
Paint the greenhouse. If the greenhouse has metal or wood exposed to the elements, these can be painted with a neutral color that compliments the main house.
Dress the base of trees with a stripe of special, white horticultural paint. Ask the local garden supply store to recommend a brand. Tell them you're trying to improve the curb appeal of your house.
Rake leaves in the fall. Leaves should be picked up twice a week in the autumn months. Use a lawnmower to make quick work of this task. It's beneficial for the lawn to mulch the leaves with the mower.
Shovel snow promptly in the winter. This is an aesthetic issue and a safety issue for visitors. Use rock salt to clear ice. This is also a good time to confirm that your insurance policy includes coverage for buyers and Realtors who might visit and slip on your sidewalk.
Water the grass regularly in the summer. A green grass lawn is the best curb appeal feature you can have. Water at night for maximum efficiency in water use.
Paint swing-sets and other permanent toys. Metal swings can be lightly sanded, rinsed, and painted with Tremclad rust paint. It goes on right over rusty metal and dries to a hard shiny finish. Give the hanging tire swing a spritz with Armour All tire dressing to make it shine. Rake the sandbox into a Zen-garden design for maximum appeal.
Arrange outdoor furniture into 'rooms' complete with lighting. The outdoors become more comfortable and familiar when inside elements are brought outside. A candle arrangement, place-mats on the patio table, and seat cushions can add an extra special look to an outdoor room.
Transplant mature trees to add extra value to your home. Mature trees can add thousands of dollars to the value of a property. Trees over 20′ in height are especially valuable and worth the few hundred dollars they cost to transplant. Ask farmers, your local county, or landowner if you can have a tall softwood or hardwood tree free. Ask the local tree pruning franchise if they know anyone who had a "tree spade." This is a giant shovel that is just for transplanting large trees without damaging their root systems.
If renewing the roof, choose a textured variety. A plain roof is nice but a textured roof gives any home added appeal. Multi-shade designs make a roof stand out from the neighbours' rooves.
Add 'knees' to front porch posts for a heavier, more luxurious look; fill the screw holes and paint them the same color as the posts. Knees can be a simple 6×6 cut at 45 degrees on both ends or elaborate like gingerbread scrolls.
Apply a non-slip coating to the front sidewalk, especially if it has been repaired. Rather than paint a sidewalk, consider using some new rubber-based non-slip coatings. Some have a raised texture that feels cushiony to walk on.
Apply a stamped concrete coating to the front sidewalk, especially if it has been repaired, to give the look of cobblestone, etc. Repaired concrete should always be resurfaced to avoid unnecessary scrutiny. Consider using a concrete stamp to give the walkway or driveway a look of distinction. Stamps are available that resemble paver stone, exposed aggregate, cobblestone, and other exotic and typically expensive treatments.
Replace a gravel walkway with used bricks or pavers from the recycling center. Gravel is difficult to walk on and will cause damage to women's high heel shoes. It may be an immediate turn-off for prospective buyers. Consider laying bricks, pavers, or even pouring concrete to create a more friendly walkway surface.
Buy a new front door with fancy embellishments, cut glass windows, and other sophisticated design elements. Builders use simple materials that have a broad appeal and are cost effective. Upgrade the entire look of the home from the curb by installing a new steel door with a decorative glass insert.
Add a lamp post to both sides of your driveway. Lamp posts welcome home residents at night with a cheery glow that can be seen from blocks away. In the winter, they are almost essential for visitors and newspaper deliveries. Grand lamps will create a regal entrance and add much curb appeal.
Add a lamp post to your front yard. If the yard has a special parking area or a park-like path, consider adding a lamp post where it will be most appreciated. Choose a style that matches the other light fixtures attached to the outside of the house.
Illuminate dark corners of your back yard. Landscape lighting is a perfect solution for gloomy corners. Choose a low wattage to save on electricity or use a solar fixture. Aim for a comfortable ambience similar to candlelight indoors.
Add a fancy new door bell. Replace the stock plastic doorbell fixture with one that shines. Polished brass, brushed nickel, and painted porcelain are a few suggestions. Look for one that has a built-in light. This is one small fixture that should be chosen for style and flash, not low price.
Add a waterfall feature using zinc buckets arranged on a landscape mound in a cascading fashion. Fit them with a hose in the top one connected to a submergible pump in the reservoir. This arrangement is very inexpensive to assemble.
Add a pond to your back yard. A small pond with floating plants and perhaps a gold fish or two is interesting and fun. If your climate is too cold for fish, consider making it a wishing pond with a few shiny pennies on the bottom.
Add a Japanese lantern to your garden and light it at night. A Japanese lantern is usually made of concrete. It looks like a little house perched on a short post. Inside there is room for a votive candle or other light source. They are available at the local garden supply store. Some lanterns are sold pre-wired with a solar light fixture.
Add a short stone retaining wall to raised garden beds. Use stones from around the property, reclaimed brick, or store-bought concrete shapes. Paint the border neutral or leave it natural depending on the color scheme of the house.
Affix cultured stone to the exposed concrete areas of your foundation (if it fits the building scheme, otherwise no). Cultured stone is very light and can be fastened to most foundations with an easy-to-make plaster. The pieces themselves look like rocks cleaved into thin slices. Arrange the stones so it appears they would stay stacked without mortar if they were real rocks. Start from the bottom and work to the top.
Dress up the playhouse just like the main house, complete with curtains and flower boxes. Simple fabric panels tied back give the illusion that the resident is working on her homemaking skills. A small flower box and a place to store toy garden tools will make this feature appeal to buyers with children.
Create a 'rock display' of rocks and ornamental grasses. Arrange rocks in groups, stack them, create a sculpture. Then, plant ornamental grasses around the arrangement for an inexpensive yet sophisticated display.
Plant perennials in your flower beds. Flowers that bloom year after year are low maintenance and the perfect addition to the landscaping. Bulbs like tulips and daffodils, or flowers like pansies and chrysanthemums keep coming back year after year. In plant-hardiness zones 8 through 11, these flowers will stay in bloom all winter long.
Build a concrete step for your front door. A concrete stoop is more permanent that wood and has a sense of permanence that wood cannot match. Choose a metal railing and paint it to accent the color scheme of the house.
Paint the front steps with a high-gloss paint. Wood steps can be dressed up with several coats of high-gloss paint. Paint the whole unit in one color and use sand or another traction additive when painting the treads.
Fill and sand hand rails smooth; paint with a high-gloss paint. Use a quality high-gloss paint. For added durability, apply three heavy coats of Varathane plastic coating to the top and sides of the handrail.
Screen-in the front porch. Sitting on a screened porch late in the summer evenings is a special joy made more special when annoying bugs are not around. Screen the porch with a fibreglass screen (for durability) or a metal screen (painted, for fashion-ability). Hang small ornaments from the screen for a touch of whimsy.
Add hanging baskets to porch posts. Fill inexpensive plastic hanging baskets with flowers and vines. A coir or coconut husk-lined wire basket is attractive. In coastal areas, line these types of baskets with large shells and plant flowers in the sides, too. Add water-retaining gel beads to keep them green when watering is infrequent.
Remove spider webs from all areas of the property, especially around the house. Check for webs in walkway passages and under the eaves. If visitors need to walk through two trees or an arbour, be sure to check for webs that form there as well.
Smooth bumps in lawns. Anyone would be proud to own a house with a lawn that looks like it was cared for by a golf course groundskeeper. A lawn roller may work but you might have to use a shovel to peel back the sod and scoop out some dirt to get it really level. Another effective, but not free, solution is to hire an asphalt roller to take a short drive around your yard. This works beautifully; buyers will want run barefoot around your yard.
Hang a seasonal wreath on your front door: silk grasses and plants in spring, silk flowers in summer, silk autumn leaves and imitation fruit in autumn, and evergreens in winter.
A six-foot circle of dirt around a doghouse is an alarm bell for some buyers who won't buy from people they don't like. To keep an animal permanently chained is now considered animal neglect. It is also illegal and could also prompt a Realtor or buyer to call the local animal rescue authorities. Make alternate arrangements for pets that have been kept tied up for long periods. Give them to a local shelter or to family.
Fill Rover's attempts at digging holes in the yard. Use soil from another area of the yard and top it with a quality grass seed. The seed will sprout in three weeks with daily watering.
Install a flag bracket on your porch post and hang a new national flag that is in proportion to your house. Paint the flag pole white, if necessary.
Add new weatherstripping to your front door. Weatherstripping represents two elements on the house: energy efficiency and maintenance. Healthy-looking weather stripping with a nice, tight seal shows that the door is not drafty. Clean weather stripping in good repair is attractive looking.
Add a bright new handle and lock-set to your front door. Inexpensive brass handles may tarnish after only a few years. If they cannot be polished, consider installing a new unit and upgrade to the next level of quality.
Add 8'x1′ trellises to corners of the house to soften the look (so the corner looks like part of an octagon). Paint them a coordinated trim color. Plant and encourage climbing vines to fill them in.
Hang a galvanized tin 'barn lamp' over the front door in your porch, if it suits the style of the house. This is a classic lamp design and nicely highlights the entry area.
Pressure wash concrete patio surfaces. Patios should be pressure washed to remove bar-b-que messes, accidental spills, and other stains. The eating area, and the entire patio, should be spotless and hygienic. Remove gum with an ice cube.
If you're adding a new roof, choose a color suitable for the part of the country you live in for greater resale value. Southern locales see higher resale values for light or white color roofs. Homes in the northern locales may see higher resale values for textured and shadowed roofs in darker earth colors. When in doubt, ask your local roofing supply company which colors are most popular for "high-end" houses. Basic black isn't the first choice for any area although it can look nice for some period homes.
Fix-up Rover's house with a new coat of paint and a wool blanket inside. The dog's house, if there is one, should be painted in the same color scheme as the house. If you're planning to take it with you then white or taupe is a good choice. Put a flower pot on each side of the door. Avoid loud or garish colors on any part of the property.
Add an awning to windows that receive direct sunlight. Some awnings are made of wood slats, or simple canvas draped over a frame, and some are fitted and stretched over a frame. Awning materials come in many different designs and colors.
Add flower boxes in coordinating colors. Flower boxes can be painted to coordinate with the house. Or, for cedar planters left unpainted. They will weather to a pale silver grey.
Add a shingled or plastered "concrete" wall to create traffic boundaries. These are an easy and cost-effective way to boost the value of the property through "value perception." A solid stucco or concrete wall seems expensive but it's really only a simple 2×6 frame on a concrete pad covered in stucco wire and plastered. Install lighting in the balusters to finish it. These are very nice in front of mature homes. Make it six feet tall for elegance or keep it low for a simple surround.
Create a pea-gravel walkway in your backyard. Pea gravel is made of small round rocks that are relatively uniform in size. This type of gravel is inexpensive and a quick solution to a muddy path through the back yard. Use 1×3 boards nailed to stakes to create a border on the sides that will keep the gravel where it belongs.
Fix driveway potholes. All potholes, cracks, depressions, etc. should be filled. The newly patched driveway should be sealed with a quality sealer. This will make the driveway appear to be in "new" condition.
Pressure wash moss from driveways. Moss and other dirt can be removed from driveways with a pressure washer. Details are important so be sure to clean the grooves in the concrete.
Apply rough stone stamping to your driveway. Tint the concrete before stamping to coordinate with the house. Choose a tint that will compliment the house. It's possible to use a multi-tonal coloring with dark "grout" in the seams. This will make a regular concrete driveway appear to be a hand-laid brick masterpiece.
Add topiary plants to both sides of your front door; use urns as planters. These plants are just regular evergreens shaped and pruned to form a corkscrew shape. They are available at the local garden center.
Install a pergola arbor or hanging trellis over a walkway or as a transition to another yard space. Plant climbing vines, like grape or ivy, to make it a perennial favourite.
Install a gate if you have a front fence. Install a handsome gate to separate the front yard and back yard. Buyers with pets or small children will find this feature very appealing. It is sometimes a deciding factor for buyers.
Use layers of different plants in the landscaping to enhance appeal. Look at a landscaping feature as an opportunity to show a variety of plants at different levels of height. Use ground-covering plants, shrubs, and dwarf trees for visual interest.
Add plants and flowers that compliment the color scheme of the house. If the house is red use blue flowers, or if the house is pink try red or white. Using color in landscaping that compliments and accents existing or new-house colors also adds to curb appeal.
Add a white picket fence to the front of the property. This is a classic curb appeal feature and one used by designers all over. A tidy picket fence painted crisp white is a traditional feature that evokes an emotional response from people. It reminds us of a time gone by.
Fence the four sides of the property so it will appeal to buyers with children and pets. Use prefab fence panels made of wood for a uniform look. A tall fence, higher than six feet in height, also offers privacy and protection from wind or unsightly views. A fence eight feet in height or even higher will make the yard seem like a world apart from whatever is going on in the yards next door.
Add a decorative mailbox. A nicely detailed mailbox is a simple addition to make and it can draw attention and add interest to the property. Choose a mailbox that is appropriate to the period for your home. Even new homes benefit from mailboxes more closely matched to the style of architecture compared to using the plain metal or plastic box the builder may have used.
Add landscape lighting to illuminate trees and other large plants on the property. Choose lighting that will be energy efficient and put the string of lights on an outdoor timer. Highlight the best trees and landscaping features with bright halogen bulbs. Use dim lighting in other areas. Avoid colored lights because they will affect the color scheme of the property. LED lights are very efficient and use only one or two watts of power.
Light paths with small garden lights. A path to the garage, or the front walkway will both benefit from added lighting. The lights will create areas of safety and warmth on a dark night. Curb appeal at night is very important.
Tile the front porch and add furniture, candles, and privacy screens. Dress up the front porch with elements normally found indoors. Bring furniture outside to create a room. Tile the floorboards for a really finished look but don't forget to nail down a stiffening mesh wire to guard against cracks. Privacy screens on the sides will complete the look for this important entry experience.
Add 'gingerbread' facade elements to the front porch. If the front porch or entryway is bare with only stock 6×6 columns then consider adding scroll-work brackets to the top corners. This is especially high impact if the home is dated to the early 20th century or if it is a newer home in the Victorian style.
Install lattices to hide dark areas under porches; paint with a coordinating color. Cover dark areas, like that under a front porch, with painted lattice to bring the space "forward" and lighten it. Dark crawlspaces, like uncovered windows at night, are not appealing.
Install vinyl siding over 5 cm (2″) rigid insulation board, especially on older homes without insulation. If the home needs residing, considering adding 2″, or more, of hardboard insulation before tacking on the siding. This material can add an R-value of ten to existing walls saving money and making the home even more appealing. The minimal cost of installation – with new vinyl siding – is an excellent investment in older, uninsulated homes. You might expect to make back the entire cost of the siding if insulation is added.
Straighten shutters or gates, etc. that hang at a jaunty angle. Be sure that all features on the property are square and straight. Repair or remove anything that isn't attached or standing plumb and square.
Clean and paint wrought iron elements. All ironwork should be painted with a good paint designed for these architectural features. It may be necessary to scrape or even sandblast corroded ironwork to achieve a smooth finish that will last.
Take down Christmas lights. It is unacceptable to have exterior holiday lights before November or past January. Remove all holiday lights and their retaining clips from the siding. Do this before painting so nail holes will not be visible.
Replace wooden windows with new vinyl units. If a particular wooden window is in bad condition, in a bathroom for example, then consider replacing that window. Rotten wood frames and leaking windows may discourage buyers from looking closer. Save the old window, paint the frame, and replace the glass with mirrors. Hang it to reflect light into a dark hallway, for example, and include it with the property.
Install hooks in the garage to hang yard tools neatly out of the way. A neat garage will appeal the person using it most. A simple garage organizing system is very inexpensive. It will store tools in an organized way and eliminate some clutter from this hard-to-organize space.
Add concrete landscaping borders. Precast concrete landscaping borders can be painted or left plain gray. There are many styles and designs to choose from and all will decorate a plain border.
Use flowers along borders. Annuals are a very inexpensive addition to the sides of walkways and add a colorful welcome to any home. They are very easy to start from seed in the winter or spring; by summer they will be in full bloom and adding to the value of your home. House prices are generally lower in the winter and early spring and higher in the summer.
Add door mats in front of all exterior doors. You may already have a door mat by the front door. Place one at the back door too. If the doormat is of the "coir" or straw variety be sure it is in good condition, otherwise discard it or use it in front of the workshop door. A new door mat is a terrific choice for the front door. Even the variety made from old tires (less than $5) adds appeal. With its shiny black appearance and wonderful smell it is better than an old mat.
Water mulch regularly to add contrast to the landscaping. Dark, wet mulch is a nice contrast to lush green plants and a nicely mowed lawn. Water before showings to enhance the landscaping beds.
Remove your compost pile. A compost pile is practically a necessity for the gardener or landscaper but not everyone shares the hobby. To some, this pile of grass clippings and twigs will look like another task to do on moving in. Removing, or at least decreasing the size, of the compost pile is best. Leave the frame for the compost pile for future use.
Remove things like hammocks and kids' swings tied to the house or the porch, unless it is that fabulous hanging wood swing your grandmother gave you. (In this case, be sure your Realtor knows that the swing is not included in the sale. Generally, everything permanently attached is included.)
Add an entrance canopy. These are very functional, inexpensive, and work especially well when the house has matching awnings on the windows. Have your house number printed on the front in a script font.
Inspect the chimney for signs of failing grout. This might mean that the brickwork is due for maintenance. If the grout is in good condition consider sandblasting or "cob-blasting" the brick to bring out the character and remove dirt and stains.
If the house has a television antenna, consider giving it a good polish or even replacing it with a new satellite system. These are very inexpensive and they are very appealing, especially to young buyers.
Remove unsightly window coverings from the inside and replace with, at least, inexpensive white PVC blinds. Often teens will hang a flag or other symbolic window covering in their room. This will detract from the overall curb appeal and these coverings should be removed, at least temporarily. The outside of your home is influenced by the window coverings. Ideally, all window coverings should appear the same color when viewed from the street to keep the design uniform.